Laser Dentistry in St. Charles, IL
WaterLase Dentistry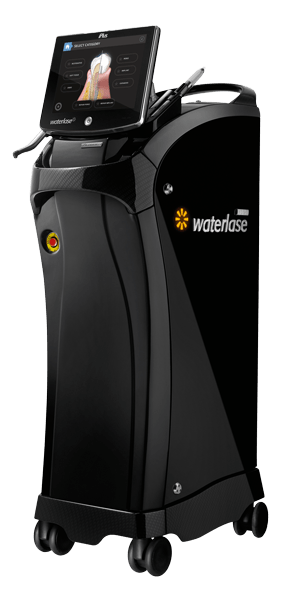 WaterLase dentistry is one of the most advanced dental treatments today. WaterLase uses a patented technology that combines focused light energy with a stream of water for a highly precise, exceptionally gentle dental experience. WaterLase allows your dentist in St. Charles, IL to perform a wide range of procedures with benefits including:
Virtually Painless, More Natural Dentistry

Heat, vibration and pressure are the primary causes of pain associated with the use of the traditional dental drill. Since cutting both hard and soft tissues (teeth and gums) with the WaterLase does not generate heat, vibration or pressure, many dental procedures can be performed nearly pain-free with fewer shots, less need for anesthesia, less use of the drill and fewer numb lips! Additionally, using the WaterLase for gum procedures reduces bleeding, post-operative pain, swelling and the need for pain medication in many cases. It's just a better way to get your dentistry done!

Accuracy & Precision

WaterLase dentists are able to remove tooth enamel decay (the hardest substance in the body), bone and gum tissue precisely while leaving surrounding areas unaffected. This conserves more of the precious tooth structure you were born with, helping you to maintain your natural teeth longer!

Reduced Trauma

High speed drills can cause hairline cracks and fractures in the teeth that eventually lead to future dental problems. WaterLase reduces damage to healthy portions of the tooth and minimizes trauma.

Less Bleeding & Swelling

Due to its conservative cutting action, the WaterLase performs many soft tissue (gum) procedures with little or no bleeding and less post-op swelling.

Fewer Dental Visits

Since you often do not need shots or anesthesia, a WaterLase dentist can perform cavity preps in all areas of the mouth in just one visit. This technology also gives trained WaterLase dentists the ability to perform many procedures that were previously referred to specialists, saving you time and hassle as you address the dental needs of you and your family.

Versatility

The WaterLase is extremely versatile. It can be used for a wide range of hard and soft tissue procedures. From decay removal, cavity preparation, root canals, smile design, gum and bone surgical procedures and many others. Let your WaterLase dentist be a one stop shop for you!
The Benefits of WaterLase Dentistry
MORE COMFORTABLE
WaterLase dentistry uses laser energy and a gentle spray of water to perform a wide range of dental procedures without the heat, vibration and pressure associated with the dental drill. With many procedures, it's possible to use less anesthetic, or no anesthetic at all.
MORE CONVENIENT
Your WaterLase dentist can often get you in and out of the dentist chair faster, since it's less likely that you'll need an injection. It's nice to avoid that shot, isn't it?
Not using anesthetic can allow your dentist in St. Charles, IL to perform procedures that used to require more than one visit in a single appointment. Also, a WaterLase dentist can perform procedures that once meant an additional trip to a specialist, saving you even more time.
MORE PRECISE
A WaterLase dentist can remove decay far more precisely than the drill. This saves more of the healthy parts of your tooth and avoids micro-fractures that the friction of a drill can cause.
Saving your natural teeth can save you the discomfort and cost of bridges, dentures and dental implants. Even better, studies show people with natural teeth live longer.
What Can WaterLase Dentistry Do?
We may use WaterLase dentistry laser to treat your gums or other soft tissue in your mouth to:
IMPROVE YOUR SMILE
We may suggest contouring or shaping your gums using WaterLase dentistry to improve the appearance of your smile – safely removing excess gum tissue that may give you a "gummy" smile, or make your front teeth appear irregular in size or shape.
REMOVE ORAL GROWTHS
Quickly and safely remove growths or excess tissue in your mouth including gum tissue over an unerupted tooth, small "tags" called papilla, and growths called fibromas.
FIX A "TONGUE TIE" OR PREVENT GUM RECESSION
Connections that restrict the movement of your tongue or cause your gums to recede can be "released" with less post-operative pain.
TREAT PERIODONTAL DISEASE
We recommend using WaterLase dentistry to remove debris and bacteria between your teeth and gums that can cause bleeding gums, gum recession and even loss of teeth. For moderate to severe gum disease, ask Dr. Hyvel about REPAIR minimally invasive periodontal treatment.
We may also use our WaterLase iPlus laser to perform other procedures that could benefit you.
EPIC™ Diode Laser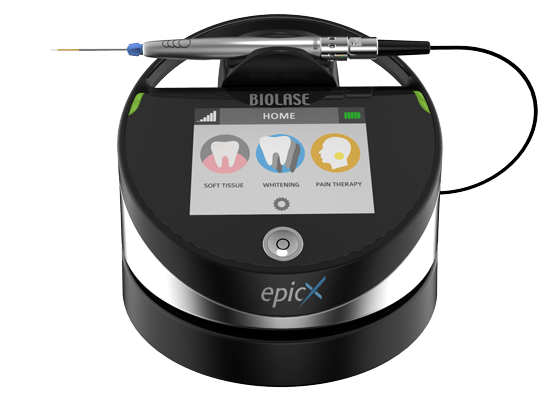 EPIC™ is the latest diode laser innovation from BIOLASE. Loaded with one patented, proprietary feature after another, the EPIC diode laser platform is available in four package configurations designed to meet the needs of every dental office. Whether you are seeking a standard soft tissue diode laser, or expanded features for Whitening and Pain Therapy, there is an EPIC configuration perfect for you.
EPIC™ is the only diode laser in the USA with three unique therapy modes – Soft Tissue Surgery, Whitening, and Pain Therapy. No matter which therapy you wish to offer, you have EPIC™ versatility available at the touch of a finger using a fully redesigned, one-of-a-kind touchscreen interface.
EPIC™ offers the most precise control of tissue cutting for different procedures and tissue biotypes. With our exclusive diode laser wavelength, EPIC™ cuts soft tissue cleaner, with more hemostasis and supreme patient comfort. Take advantage of other capabilities including relief of lesions (aphthous ulcers, herpetic lesions) as well as performing "pocket therapy" using single-use disposable Perio tips.
EPIC™ is an ideal teeth-whitening solution for progressive offices wanting to expand their cosmetic treatment menu. Studies have shown that EPIC™ can perform a full-mouth, in-office whitening procedure with an average of 4-6 shades in only 20 minutes of treatment time (not including set-up or take-down), faster than any other in-office whitening system.* And with LaserWhite20 whitening gel treatment kits available in affordable 5-packs, using EPIC to whiten teeth in-office is a reliable, affordable treatment that can generate significant revenue from your laser investment.
One of the most promising aspects of laser dentistry is the opportunity to do more with less anesthetic, and less damage to the tissue. EPIC™ delivers on that promise with ComfortPulse, a proprietary innovation that delivers precisely controlled micropulses of diode energy to the tissue, followed by "down" time to allow tissue to relax and respond positively to laser treatment.
EPIC™ also introduces a new ComfortPulse setting that delivers pulses to the tissue as short as one ten-millionth of a second, resulting in improved patient comfort, less damage to surrounding tissues, and better healing. With EPIC, patient comfort is a reality.